Most of us do our part to recycle as much paper, glass, aluminum, and plastic as possible. Convenient garage shelving and recycling bins make it easy to sort and store recyclables until trash day. Responsibly disposing of recyclable items each week leads to a neater home and a safer, happier planet. However, recycling rules don't always seem clear. Different versions of the recycle symbol mean different things, often with numbers giving key information about the type of plastic. While the traditional recyclables may seem obvious, you may find other unusual things you should actually be recycling.
Do you ever feel confused as far as what you can and cannot recycle? Most townships have their own recycling rules, but many unusual items like electronics and metal need to be recycled in a special way. Here are some tips to help you better understand your recycling solutions as you work toward a greener lifestyle.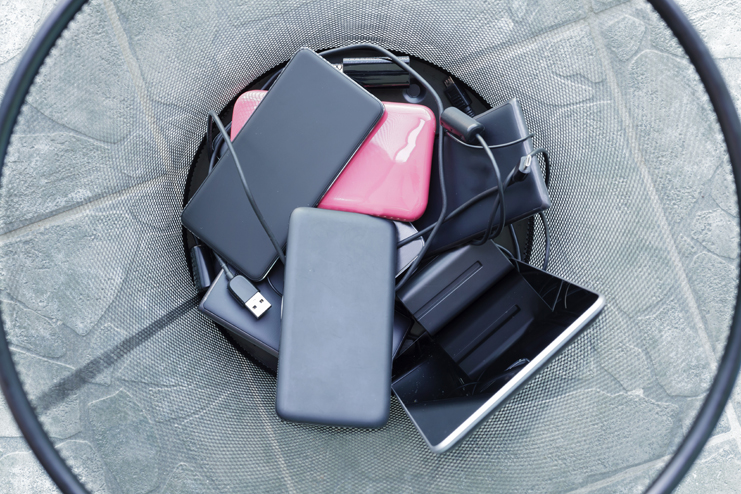 Electronic Recycling
Technology keeps advancing at a rapid pace, raising the desire to replace tech items almost as quickly. When you do move on to the next one, those old computers, cellphones, and printers tend to pile up. Here are some tips for computer recycling, printer recycling, and options for other tech items.
Mobile Phone Recycling – When you're ready for a new phone, the first place to check is with your carrier. Oftentimes mobile network providers will allow you to trade in a device for a discount on your next one. You can also turn to big box stores for cell phone recycling or donate your devices to a charity like Cell Phones for Soldiers.
Computer Recycling – Big box electronics stores often offer device and tech product recycling to help preserve the planet. For example, Best Buy accepts innumerable electronics from computers and tablets to cell phones, video game systems, cameras, appliances and just about everything in between. To date, the store has responsibly disposed of more than 1 billion pounds of unwanted electronic gear and appliance items. Tips: First remove any personal data from your devices. Then, check to see if your item is worth anything as a trade-in prior to recycling.
Printer Recycling – Staples is another big-name store that takes recycling seriously. Printer recycling is just one of dozens of tech trade-ins and recycling programs they offer. Also count on the office supply store to give you rewards credits when you recycle ink and toner cartridges.
Electronics Accessories – Do NOT put CDs and DVDs in your curbside recycling bin. You can recycle CDs and DVDs for free! Visit the CD Recycling Center of America online to find the facility nearest to you. Send in your old CDs and cases for a second life. The center also processes cell phones, small electronics, inkjet cartridges, chargers, floppy disks, printer cables, extension cords, and even Christmas lights.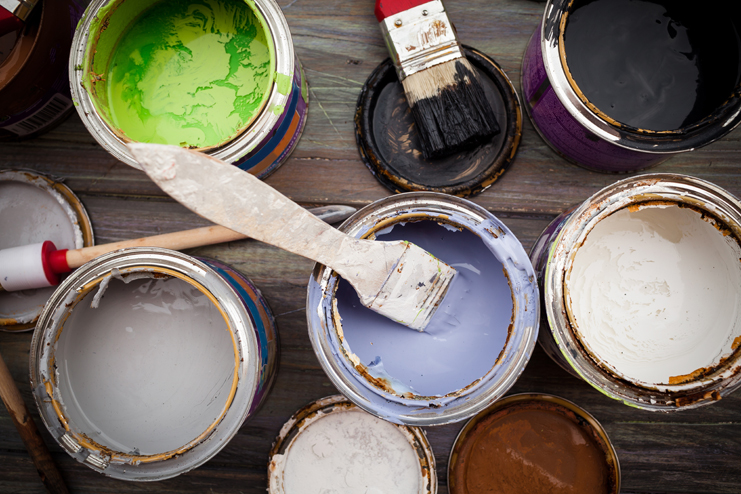 Recycling Home Items
Random items tend to work their way into the giveaway pile or the trash. Sometimes, though, and item may not really fit either category. Various home items may be eligible for a second life if recycled properly.
Paint Recycling – Paint best fits the category of reuse rather than recycling. If it hasn't dried out, consider donating your unwanted paint to a school or community program that may need craft and supply donations. If latex, acrylic, or water-based paint is headed for the trashcan, you must intentionally dry out the paint first. Ensure it's solidified before disposing of it in your trash. Latex paint is not considered hazardous and should not be disposed of as Household Hazardous Waste. However, oil-based paint contains volatile organic compounds (VOCs) and flammable components. For this reason, it needs to go through a household hazardous waste program. Do not attempt to dry up oil-based paint as this can create toxic fumes. Check with your recycling center or transfer station for opportunities to recycle different kinds of paint. Some recycling centers offer paint giveaways to groups that can use it. Also, if you can remove most of the paint, take the empty metal paint cans to your local metal scrap dealer. (The should have less than 25mm of paint in the bottom, but check with the company for specific requirements.)
Battery Recycling – Recycling rechargeable batteries became fairly mainstream for quite some time. Now processes allow for single-use battery recycling as well! Check out Call2Recycle's All Battery Recycling program to responsibly dispose of your old and unwanted batteries. Safety Tip: 9V batteries pose significant fire hazards if a piece of metal comes between the two posts. Educate yourself about battery safety to practice extreme safety in storing and disposing of these batteries.
Light Bulb Recycling – The old "incandescent" light bulbs must be thrown out, but newer energy-efficient light bulbs are recyclable. Check with your local recycling center to see if they will take fluorescent light bulbs.
Plastic Bag Recycling – Grocery stores and other merchants often keep a big box to collect used plastic bags. Get into the habit of turning in your used plastic bags when you go back to the store each time. Also, you may want to start using reusable shopping bags instead of getting new plastic bags every time. Plastic film packaging also qualifies for recycling. This is the type of bag keeping your bread fresh as well as zip-top storage bags, and dry-cleaning bags, among others. Bags covering diapers, tissues, toilet paper, and other household items ARE recyclable. Simply package all of these plastic bags and films together and drop off conveniently at the collection box.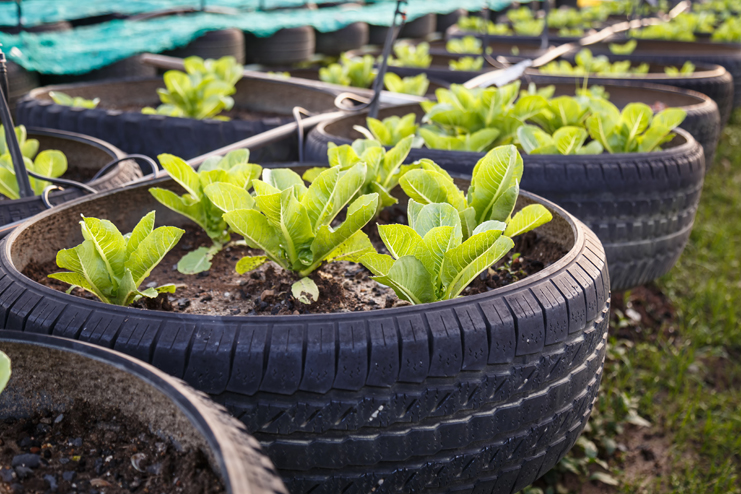 Recycling Materials from Outdoors
Keep your garage, shed, and yard in pristine condition by recycling materials from these areas.
Yard Waste – Check with your local township about various recycling programs. Some townships turn yard waste, tree branches, and other natural refuse into mulch for the community.
Tires – Rubber recycling is a thing. Reclaimed tires may become ground rubber mulch at playgrounds or used as fuel for cement manufacturing. Try the recycling locator at Earth911.com to find the nearest tire recycling center near you. Alternatively, you can reuse old tires at your own home. They make durable gardening beds or fun tire swings for the kids.
Scrap Metal – Find a metal scrap yard near you and you could roll away with cash for trash. Metal recycling can be a little time and labor intensive but it may pay off. Some recycling centers may also accept metal but may not offer payment for it. With a search on your local neighborhood groups, you can usually find someone who will come to pick up the scrap metal and take it to a dealer themselves if you aren't up for the work involved.
Wood Recycling – Sometimes best used as upcycled future products, even wood can be recycled. The pieces of wood can be broken down into scraps that live on as engineered wood. Look into options for wood recycling at ReuseWood.org.
Many items can be upcycled for reuse even if they can't be recycled. A lot of things you would normally recycle can transform into uniquely upcycled home décor items. Consider using some leftover paint on wooden picture frames to create a gallery wall. You can also update planters and flowerpots or craft custom shelving. Create a little space for your crafting and DIY supplies and future projects in a private personal storage unit just for you. Review the Storage Size Guide at Price Self Storage to find the right size storage unit for your needs.
Beyond curbside recycling and your new DIY projects, make a point to search online for any other unusual items you'd like to try to recycle. You may find a specialty recycling center or green partner near your home or office. Also, be aware that not all recycling programs are free. Sometimes small fees may apply, but the long-term payoffs for the planet are well worth a small price to pay.