When the skies cloud up and the rain starts to fall, the forecast for the day's activities may also change. Options for outdoor fun are certainly limited, and sometimes it just isn't worth packing up the kids in the car to go somewhere when it's pouring outside. Instead, have a little rainy day fun. No matter if your crew prefers crafting, imaginary play, or something else, you are sure to find some great rainy day activities for kids that everyone can enjoy.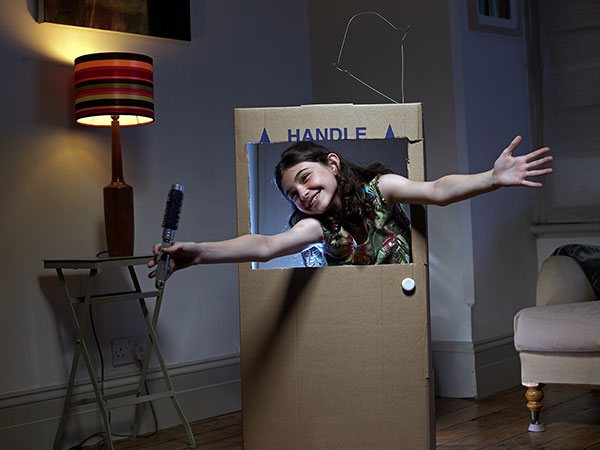 Imaginative Rainy Day Activities
Cardboard box projects can be some of the most memorable activities to do with your kids on a rainy day. Here are a few suggestions to get you started.
Create cardboard box houses using large boxes from appliances, furniture, or moving boxes. Use packing tape to connect boxes for a larger playhouse. Alternatively, make a castle, a doghouse, or a store. Allow your kids to decorate the outside of the playhouse with crayons, markers, stickers, or other fun craft supplies.
More advanced crafters may enjoy making vehicles out of cardboard boxes. From cars and trucks to buses and fire trucks, a little imagination goes a long way.
Create a "twinkle box" with a large cardboard box and some battery-powered LED lights. First open a panel or cut the box to allow safe entry and exit. Then cut holes in the top and poke the individual lights through the holes. When you turn on the lights and invite your kids to enjoy their special hideaway, they'll be sure to forget all about the gloomy weather.
Rainy Day Painting
Some other exciting rainy day projects for kids may involve arts and crafts. Painting in particular offers creative freedom and exploration as you introduce your kids to different supplies and mediums. Consider these rainy day painting projects to entertain little ones when the weather isn't cooperating.
Make fun handprint and footprint designs to cherish for years to come. Create something seasonal or simply make a few copies of rainbow handprints to give to your child's grandparents, aunts, and uncles. Arm your child with a paintbrush, paper, and some watercolors and let the fun begin!
Gather up a variety of supplies like egg cartons, bubble wrap, and other textured items. Encourage your kids to be creative with these items and some paint, creating abstract designs or pretty scenes on poster board or panels from cardboard boxes.
Use painters tape or masking tape to create designs on poster board and then invite your kids to paint all over. When they are done painting, remove the tape for a cool effect with negative space.
These rainy day activities are sure to be more memorable than simply watching television or playing video games on a stormy day. Use your imagination to come up with even more ideas for rainy day fun. If you are wondering where to get cardboard boxes, bubble wrap, packing tape, and other supplies, simply visit one of our Price Self Storage store locations!