Who hasn't heard of the man cave? It's the perfect place to watch the big game, enjoy a draft beer from your own tap, play a little poker, or just kick back and relax. Many man caves are female-friendly, of course, but sometimes a lady just wants a space of her own. Enter the DIY she shed.
A chic shed idea for women of all ages, she sheds offer a fun and personal space to enjoy your creativity and your favorite hobbies. A brief glimpse online leads you to dozens if not hundreds of she shed ideas for social spaces that rival the great man caves of then and now. No matter how handy you happen to be, you can embark on a DIY shed project to bring to life your vision for your own space where you can focus on gardening, scrapbooking, photography, and other beloved pastimes. Here are a few ideas for DIY she sheds that you can design and create for a lifetime of memories.
Must-Have She Shed Interior Ideas
Creating a special space requires a lot of thought and planning for best results. The design of she shed interiors can make all the difference in achieving a certain vibe or atmosphere. Here are some unique woman cave she shed interior ideas to consider.
Garden Party Shed
Paint the interior in pretty pastels and hang your garden tools about the room for a chic look. Set up some cozy chairs and a side table for casual chitchat. Hang up an organizer for your seeds and consider adding a potting bench for your seed starting efforts.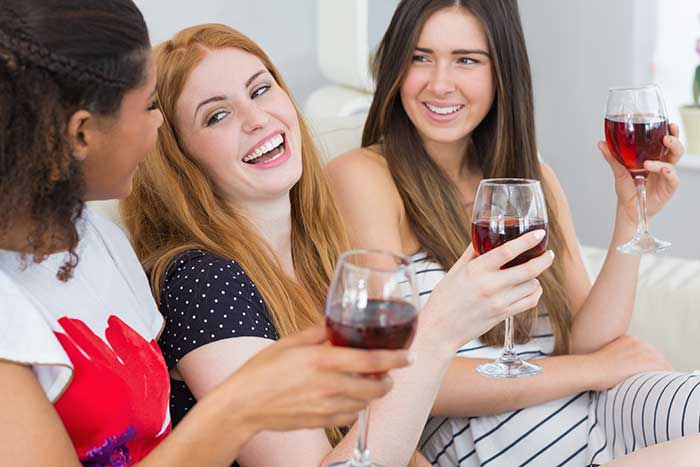 Speakeasy
Imagine how much fun you'll have with your own sipping room! Set up a wine tasting wall with a wine bottle rack, glassware, corkscrew, and other wine accessories. Look into the allure of a tall counter with bar stools or a bar table with matching chairs.
Craft Cave
No longer will you need to hunt for inspiration – find it all right here in your craft she shed! Run your Etsy business right from your backyard or simply get away from the daily grind to scrapbook in your own space. Another lady shed space could work wonders for quilting, not to mention needlework crafts with a perfect knitting or crocheting cove.
Office Hideaway
Having a hard time getting work done at home? No problem there – just give yourself some space to get away and focus. Forget the cubicle. Anything is possible with your newfound work environment. Set up a second computer screen and a little sound system to keep your mind engaged.
Conversation Nook
Sometimes all you need is a private place to enjoy a little chitchat. Create the perfect corner for memorable conversations in your she shed. Find a small loveseat, bench, or a pair of chairs and a table to hold your tea or coffee and treats. Add colorful throw pillows and other decorative touches to bring your sense of style to life.
Other Crafty She Shed Ideas
When you create a space just for yourself, you have a wide world of possibilities to consider in making it fit your needs. Here are a few DIY shed tips to help your special place stand out.
Create a loft for simple storage for your crafts, gardening supplies, and more.

Or, create a cozy bunk in the loft for the perfect escape catnap.

Make it a sports fan hangout for your favorite team!

Leverage the added storage space for some of your overflow clothes and possessions.
How To Create a
DIY She Shed
Maybe you love the idea of a craft she shed or want your own space for a side hustle or new business. The first thing you're going to need is space. Now that you have some great interior decorating ideas to make your she shed beautiful, it's time to carve out some space for it. Here are some great ideas for a DIY she shed. 
Convert a Guest Room in Your Home
The easiest way to create a she shed is to use space that already exists inside your home. If you have a guest bedroom or if one of your kids has recently flown the nest, convert that room into a space all your own. You won't have to spend a big chunk of change to remodel your home or build an ancillary dwelling unit (ADU) in the back yard. In fact, the only costs will be for the furniture and décor you want.
Still want a guest room for when family or friends are in town? Add a convertible sofa or futon to the room so your she shed can double as a guest bedroom when needed. 
Convert Your Garage or Basement
Another one of our favorite she shed ideas is to convert your garage or basement into your woman cave. Depending on your needs and your family's needs, you can also perform a partial conversion, leaving some room for storage or cars. Basements may need little to no work aside from refurnishing and decorating. For a garage, you may want to add some insulation and electrical outlets to keep temps and lighting more enjoyable. 
Install a Backyard Shed
Don't have any extra space in your house? Don't worry. If your budget is tight, one of our favorite backyard she shed ideas is to purchase a premade shed and convert it into your she shed space. Most major home improvement stores and some big box retailers, like Walmart and Costco, sell pre-constructed sheds in various sizes. You may need to spring for a concrete pad, and some assembly may be required.
A backyard shed does require some trade-offs. Unless you add electrical and water, you might need to depend on battery-powered lights, fans, and heaters to keep the place comfortable. If you live in a place with cold winters or hot summers, an unelectrified shed may not be ideal. Of course, you can always upgrade your shed over time as your budget allows.
Build an ADU on Your Property
You'll need to be very handy to build an ancillary dwelling unit, or ADU, on your own. However, for those who want to take on a construction challenge, an ADU can provide you with a great backyard she shed.
An ADU is the most time-intensive and expensive DIY she shed option, but it will also allow you to customize your space. You can find plenty of ADU designs and even some prefabricated kits online. You can also choose to convert a shipping container into an ADU. 
Make sure you understand the ADU regulations of your city before starting this project, and pick an option that fits your capabilities and your budget. In many parts of the country, including California, cities and states are becoming more supportive of ADU construction, and more companies are offering ADU kits or construction services (if building one from scratch doesn't appeal to you). 
Moving Large Items to Storage Will Help Free Up Space
If you decide to convert a bedroom, basement, garage, or existing shed on your property into a she shed, you'll need somewhere to store all the items you displace. Your closets and shelves may not be enough to handle an extra bedroom set, all your holiday decorations, or your camping equipment. 
Instead, help your she shed become a reality by investing in self-storage. Price Self Storage is ideal for storing everything you can no longer keep at home. We offer storage units in a variety of sizes. Our medium and large units can easily hold a bedroom set or take over for your garage or basement. 
Whether you decide to use one of our she shed ideas inside or one of our backyard she shed ideas, we wish you luck in creating a space where you can fully shine.