While the New England Patriots are gearing up for yet another in a long line of Super Bowl appearances, the Philadelphia Eagles are preparing for their revenge from the big game in 2004. To the surprise of many, the Philadelphia Eagles continued their winning streak even after losing star quarterback Carson Wentz in early December. The "underdog" team rose to the challenge in the NFC Championship game, led by backup quarterback Nick Foles, crushing the Minnesota Vikings by 38 to 7. The close championship game between the Patriots and the Jaguars (24 to 20) versus the bigtime blowout by the Eagles sets the wheels in motion for an epic Super Bowl this year and only time will tell who'll bring home the Vince Lombardi Trophy.
With such an exciting matchup on the horizon, even fair-weather football fans may want to think about throwing a viewing party. Most people are looking to make plans to eat, drink, and be merry for the Big Game even if they aren't huge fans during the regular season. Invite your favorite game day and everyday crew and get ready for some fun! No matter if you're a diehard sports fan or more interested in the commercials, the success of your Super Bowl party depends largely on a few preparations.
Super Bowl Food Menu and Layout
First, the food and drink. You'll want to make sure you are fully stocked on beer, soda, and water, along with any other drinks you might wish to have. Here are a few fun Super Bowl party tips.
Consider whether you will tackle the food yourself or invite others for a potluck.
Plan out the number of crock pots, warming trays, electric skillets, or Sterno sets that you'll need to have on hand to accommodate all your party food.
Also ensure you have enough outlets throughout your kitchen and buffet area to keep the food warm without blowing a circuit.
If your group is large enough, a keg or partial keg of your favorite beer might be the way to go.
Create your menu of appetizers and dips, snacks, entrees, and sides. List out the ingredients you need for each item and the amounts so you can easily stay on track.
Don't forget delicious and festive football-themed desserts! Make cookie dough ahead of time and stick it in the fridge so you can serve still-warm cookies on game day!
Set out festive paper plates, cups, and plasticware to keep cleanup to a minimum by the time the party's done.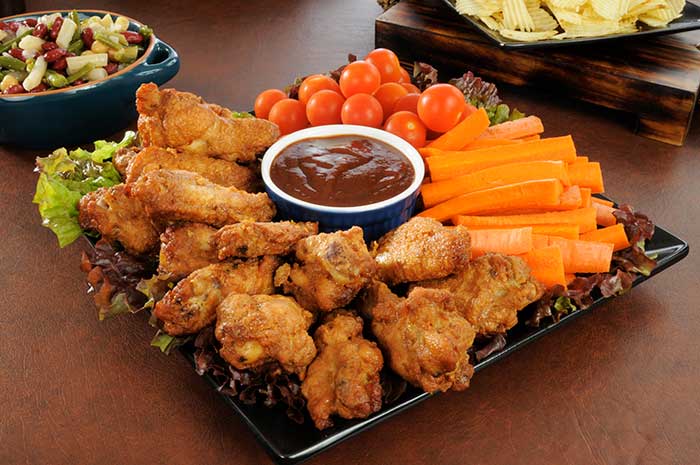 Super Bowl Party Seating Ideas
Now that you've knocked out the invitations and the Super Bowl menu, move onto another vital piece of the party puzzle-the seating arrangements! The size and layout of your home greatly impact the comfort level and accessibility for your guests during your Super Bowl viewing party. Here are a few suggestions to make the most of the space you have.
Decide which part or parts of your home will work best with the televisions set to the game. Consider bringing in another TV to make the most of your floorplan.
Work from wall to wall in each space to maximize your seating accommodations.
Layer the seating like a movie theater if needed. Go from tallest seating in the back to the medium height seats and finally the floor cushions.
Relocate things you don't need at your Super Bowl viewing party, like toyboxes and play sets. Replace with snack tables and more seating!
Rely on the sofas, loveseats, and armchairs for primary seating, but get a little creative for additional options.
Repurpose ottomans and storage cubes as extra seats.
Bring out folding chairs, bean bag chairs, floor pillows, and other soft seating to accommodate even more guests.
Put pillows or body pillows on the fireplace hearth to create bench-style seating.
Set up a TV in your kitchen or dining room to take advantage of the table seating. Guests will love having better control over their food amid cheers and complaints.
Try out a projector to get an even bigger picture for your family and guests to enjoy.
If you live in a warmer climate (and budget isn't of concern), take your party outdoors! Make it a block party! Turn your Super Bowl party into an outdoor tailgate for a truly memorable time. Or simply set up an outdoor TV with your favorite lawn chairs and loungers.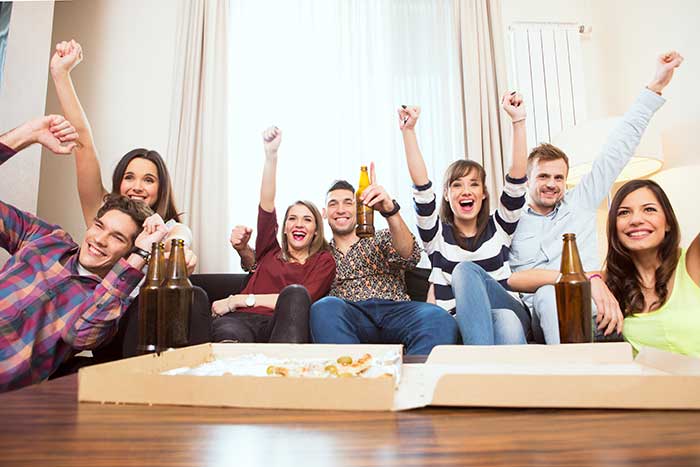 Fun Stuff for the Super Bowl
Lastly, add a little bit of your own flavor to this fun, annual party. Here are a few suggestions for the ultimate Super Bowl party.
Don't forget to decorate! Splash your team colors all over the place or put up a mix of both teams if you don't have a set favorite. Run streamers on the walls and banners or football cutouts and balloons around the room as you see fit.
Set up Super Bowl activities for the kids, like a football piñata, flag football, a football toss game, or an obstacle course.
On entry, require guests to make Super Bowl predictions and offer a prize to the guest with the closest guess.
Run a block pool for a bit of more competitive fun.
When it's all over, put your extra seating, crazy collection of crock pots, and other party accessories away into storage. Private personal storage units can help you keep your own home clutter-free! And if you've got a tailgating RV, we've got a place to park that, too.
No matter who you're rooting for, we hope you have a blast at your Super Bowl party!